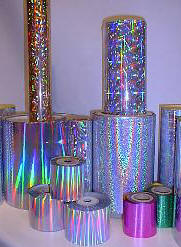 HolographicFilms.com has been involved in the development and sales of holographic film products for over ten years.
We are the exclusive U. S. marketer for the holographic film products manufactured by a very fine Korean company that started embossing holographic films over ten years ago. Although we may be a new company on the web, we have over twenty years of experience in the development and manufacture of holographic film products.

You can purchase our super products with the greatest confidence in their best performance.
If you'd like to know more about holographic films, you might want to go to our "What are holographic films?" page where you can learn about how holographic films are manufactured and how they can be used.
Our web site sells holographic films and holographic film products directly to consumers and commercial customers alike. Consumer products can be used just the way we sell them while commercial products normally have to be further manufactured (printed, laminated or cut) into other products before they can be used. Consumer products are available in smaller sizes and quantities and are typically sold at "retail" prices and taxed. Commercial products are provided in larger sizes and quantities at lower "wholesale or commercial" prices and are not taxed. In order to buy commercial products, you must submit a reseller's permit card so we don't have to charge sales tax on your purchase.
When you go to our "Products" page, you will see "Consumer Products" and "Commercial Products". Feel free to visit both product pages.
Thanks for joining us at HolographicFilms.com. You are important person #
to visit with us. We hope you will become one of our fine customers.